Attention: this is very old content, revived mostly for historical interest. Many of the pages on this site are still useful, but please bear in mind that they may be out of date. (Especially, do not try to use contact information, phone numbers, etc. found on these pages unless you couldn't find anything more recent.)
See here for more information.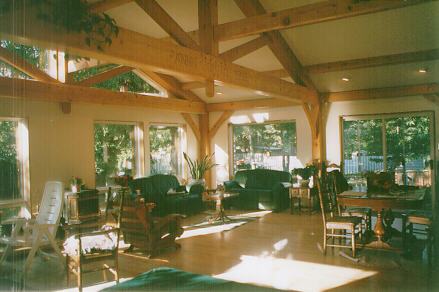 Hybrid Alternatives
In order to satisfy a greater range of budgets we can Timber Frame a portion of a conventional structure (i.e. great room or kitchen/dining area, etc.).
Smaller Projects
Whether you require a roof for the hot tub or a classic recreation retreat, a Timber Frame structure can provide a lifetime of satisfaction and a timeless heirloom for all to enjoy.
Other Specialized Services
Timber Framed roof systems.
Timber Framed additions.
Custom carving and embellishments (i.e. names, crests, etc.)
Traditionally built cabinets and furniture.
Finished interior carpentry (i.e. stairs, railings, custom mouldings, etc.)
Hybrid Alternatives || Custom Design || Timber Frame Package || Back to Western Timbersmiths
Western Timbersmiths Inc., 4310 Sparks St., Terrace B.C. Canada, V8G 2W5
Phone/Fax: (604) 638-0703, email wts@kermode.net
---