Attention: this is very old content, revived mostly for historical interest. Many of the pages on this site are still useful, but please bear in mind that they may be out of date. (Especially, do not try to use contact information, phone numbers, etc. found on these pages unless you couldn't find anything more recent.)
See here for more information.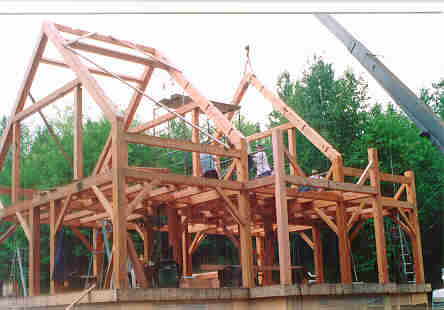 Timber Frame Package or Turn Key House?
In the case of many dream homes the client prefers a very hands on experience, and in this case a Timber Frame package can provide that opportunity. On the other hand, if you require a completed home, this too can be provided.
What Our Timber Frame Package Includes:
A custom designed timber frame structure erected on your site.
2x6 tongue and groove flooring as the second floor deck.
Handrailing sections where needed.
Double glazed wood framed windows and exterior doors.
Transportation of the frame and enclosure system to your site.
A stress skin panel enclosure system (R28 walls, R45 roof).
Six sets of finished drawings.
Client's Responsibilities:
Construction of the main floor deck and foundation.
All mechanical systems (i.e. plumbing/heating/electrical).
Final roof covering (i.e. shingles/shakes/metal).
Site development and services (i.e. water/hydro/septic).
Appliances and finishes (i.e. flooring/paint/cabinets).
Fixtures (i.e. tubs/showers/toilets).
Stairs and railings if not integrated with the frame.
Interior partitions, drywall, and drywall finishing.
Any required building permits.
General contracting and coordinating.
Hybrid Alternatives || Custom Design || Timber Frame Package || Back to Western Timbersmiths
Western Timbersmiths Inc., 4310 Sparks St., Terrace B.C. Canada, V8G 2W5
Phone/Fax: (604) 638-0703, email wts@kermode.net
---