Whether you're looking for total relaxation or maximum therapy, Coast Spas has it all.
Coast Spas leads the industry with the best selection and most advanced spas in the world today. Comfortable contoured seats, sculpted lounges and lumbar support all contribute
to your total body relaxation.
Coast Spas Monster Flow 280 g.p.m., 7 hp. pumps, together with 3" plumbing and
easy to turn control valves direct the
water flow to our incredible
State of the Art Jets.
High powered back massage is achieved with
our exclusive therapy seat. Individual aches and pains will melt away with our triple neck jets, pulsating gatlin jets, maxi-rotator jets, and
molded foot jets. At the end of your vigorous massage, enjoy the relaxing effect of
swirling water with our 2" whirlpool jets.
Coast Spa Series - click on image for specifications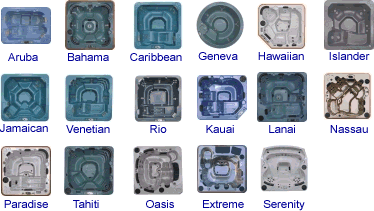 No other spa offers such head to toe diversity.
So, to relieve the mental stress and physical aches and
pains of everyday life, take home a Coast Spa.

The World's Best Built Spa!