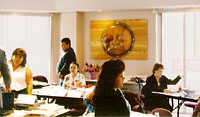 What does our facility offer you?
Spacious, Air Conditioned Rooms.
Well Lit Comfortable atmosphere.

The facilities have full internet access, high speed lines, satellite access, and state of the art technology linking Terrace to the World!
Hospitality is customized to your needs!!
Conference Room Rental > seats 20-25 people comfortable in a variety of seating configurations.
Rental RatesFull Day = $100.00 plus use of equipment and hospitality
Half Day = $75.00 plus use of equipment and hospitality
Smaller Meeting Room > seats up to eight people
The centre has a full range of equipment to enhance your meeting:
Power point Projector
Large Screen TV and VCR
Six station computer lab
Overhead Projector and Screens

I - Link Technology
Internet Access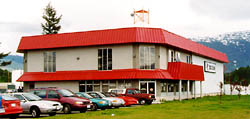 With flexible hours of operation, the centre is open to meet your needs. We're open evenings, weekends, holidays, as well as weekdays
Call us to book your meeting today!
(250) 638-6035