Barbara Haldane has been working in the field of Adult Education for a relatively short period of time. She is a recent graduate of the University of British Columbia with a degree in Education.

She has worked for Human Resources Development Canada in Duncan, B.C. in the role of Student Placement Officer. During this time she worked with the local employers matching the best students to their particular needs.

During her employment with Nisga'a Economic Enterprises, she conducted a market survey to determine the viability of locating a bank in the Nass Valley. Her responsibilities included community communication to ensure the results of the survey were made available to all members.

Barbara's natural ability in public relations and marketing has greatly assisted in developing the Centre's profile in Terrace.

Barbara was born and raised in the community of Laxgalts'ap (Greenville) and brings a wealth of knowledge of the First Nations culture to the Centre.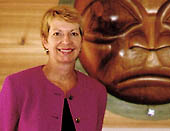 Lorna Morris has been working in the areas of human resource development, management, organizational change and training for fifteen years. She has held senior management positions in the Federal Government, not for profit sector as well as the private sector.
In the Federal Government she led top performing offices in the areas of community development and customer service. As Executive Director she developed an dynamic organization specializing in health and social service programs which served as a model for the Provincial Government.
Her consulting experience spans diverse environments including industry, government, community development, education and small business. She has developed and assisted industry and small business in developing and implementing new recruitment practices. Organizations who have implemented strategic planning processes led by Lorna have noted improvement in their operations.
Lorna has developed and led courses for business